Launch of 'Delicious outside the refrigerator' campaign
Most people put the tomatoes they just bought straight into the refrigerator, but this isn't very sensible. Few consumers are acquainted with the advice not to refrigerate tomatoes. 'The highest time for a focused campaign,' Wim van den Berg, Marketing Manager, informs us. 'Our campaign will include the distribution of brochures and stickers, as well as calling on all of our supply chain partners to pass on the message.'
A tomato retains more of its delicious flavour when kept outside of the refrigerator. This is because cold temperatures gradually break down the molecules that determine flavour. A tomato kept out of the refrigerator retains its nutrients longer and stays fresh and juicy longer, too. 'Too few consumers are aware of this. That is why we're going to start communicating this advice more often on, for instance, packaging, in brochures and in consumer magazines. Even some retailers still display their tomatoes in cooling unit. In cooperation with our supply chain partners, this will also be receiving extra attention during the campaign.
At room temperature
It would be much better if consumers stored their tomatoes at room temperature - in a fruit bowl, for instance, but not too close to bananas, apples or pears. These fruits emit ethylene, a gas that can accelerate a tomato's ripening process. Sweet peppers, cucumbers and aubergines, however, make good companions for tomatoes in a bowl.
Interested in receiving a promotional package?
Distribute the stickers and stick them everywhere! With all of us supporting this campaign, people will get more - and definitely longer - enjoyment out of tomatoes (ours especially, of course!). Would you like to receive a promotional package? If so, contact Mariëlle van den Berg at info@prominent-tomatoes.nl.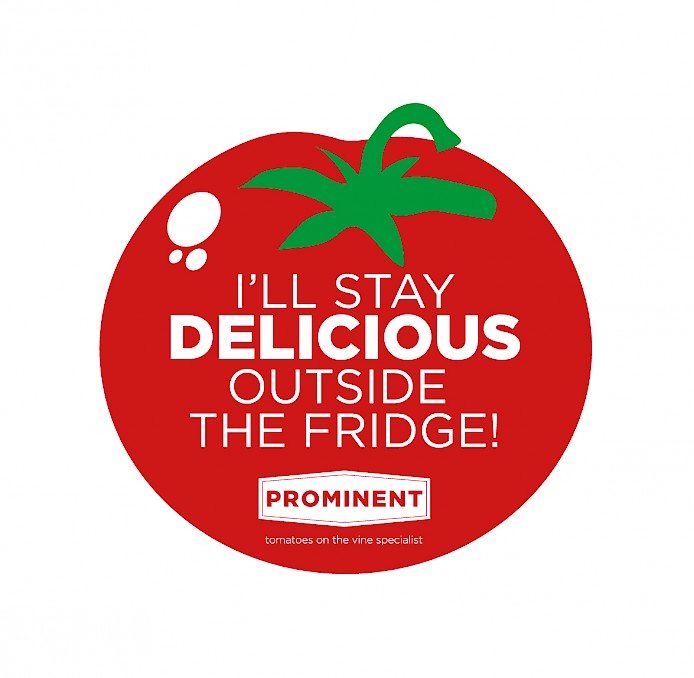 The sales, marketing and quality control of Prominent tomatoes are handled by Door Partners B.V. This sales subsidiary forms part of the Grower Cooperative DOOR U.A.
Return to blogs