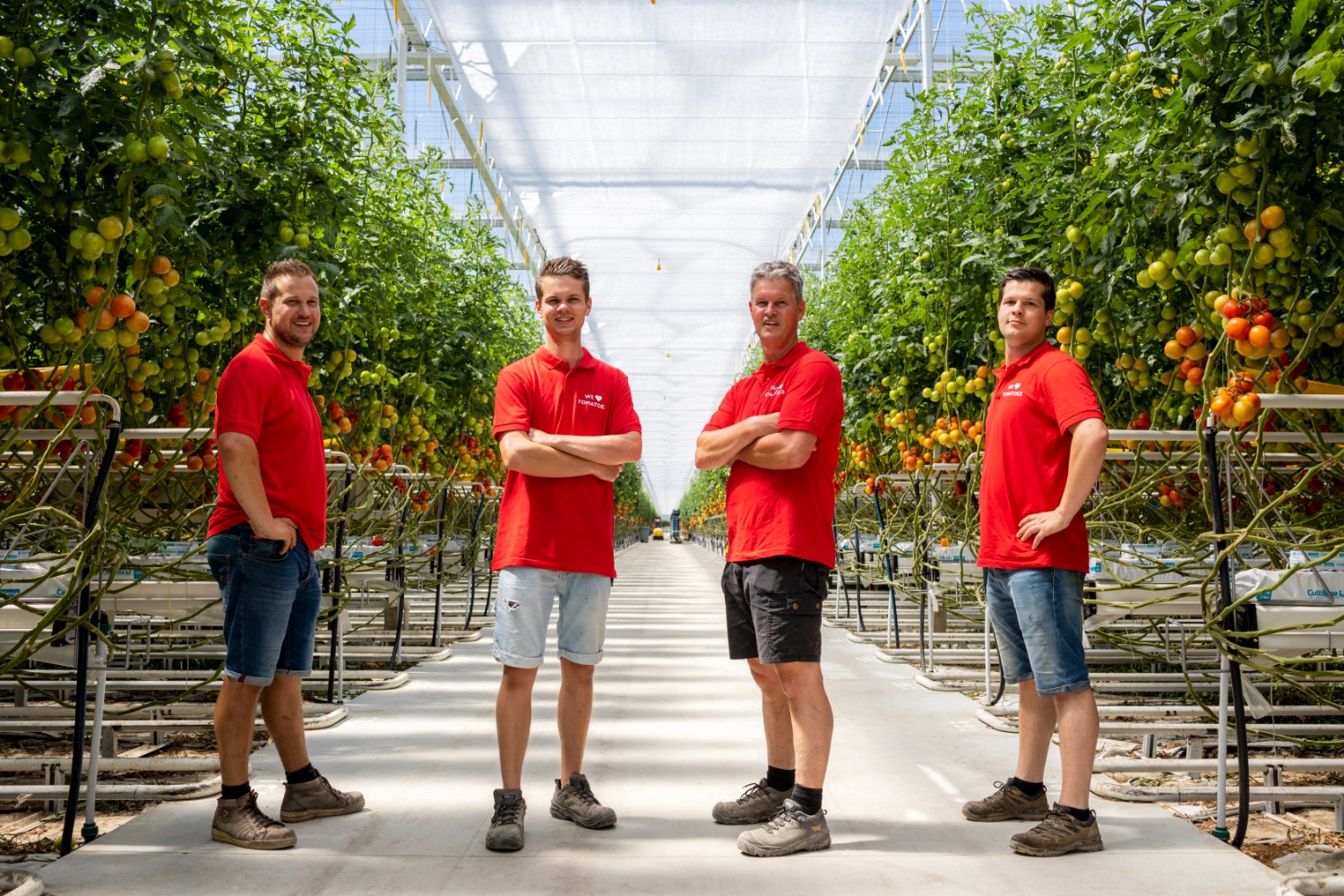 Van Adrichem Kwekerijen

Van Adrichem Kwekerijen is a family business with almost seventy years of experience. One of their two locations is situated in Westdorpe, in the Dutch province of Zeeland. At this site, they use geothermal energy and the CO₂ that is released during the production of fertiliser at a company nearby; incredibly sustainable!

De Bakker Westland

De Bakker Westland is the family business of father Frans and his two sons, Bart and Roel. The company has been based in Kwintsheul, in the Dutch Westland region, for ages. The horticultural business is over six hectares in size and employs 25 people. The permanent employees have been with the company for a long time.

Kwekerij van den Berg

Marcel van den Berg's nursery grows snack tomatoes. The 3-hectare horticultural company is located in the heart of the Dutch Westland region, at Kreekrug in De Lier, and employs around 22 employees (including some flex workers) during harvest season.

Bryte

Bryte's roots are in the Dutch Westland region. The company was founded in 2019 as a result of a merger between Kwekerij Dukker and Zwinkels Tomaten. Two different family businesses that share the same DNA. For years, they have been growing tomatoes that are known for one thing only: their taste.

Dekker Glascultures

This family business in the Dutch province of Noord-Holland was founded around 1940 by the grandfather of the three grandsons who are now in charge. The nursery has since grown into a 10-hectare horticultural company, where work is carried out with state-of-the-art equipment.

D.T. van Noord Tomaten

This tomato nursery in the sunny province of Zeeland, in the south of the Netherlands, specialises in growing cocktail tomatoes. In 1991, Dick van Noord started with 1 hectare of greenhouse space in Sirjansland. Since then, the horticultural company has grown into a location of 8.4 hectares where tasty vine tomatoes are grown.

Greenway

Since 1966, Greenway has been supplying the so-called 'tasty tomatoes', which are cultivated with plenty of knowledge and experience. Initially these were harvested as loose tomatoes and since 1995 they have been produced as vine tomatoes. The company has gradually developed into what it is today. Greenway has two locations, both located in De Lier, in the Westland region.

Green 2 Grow

This is a tomato nursery with two locations in Maasdijk. One location is four hectares and the other eight. The company is run by two brothers: Aad and Niek Groenewegen. A group of permanent employees, temporary workers and students also help out in this thriving company.

Prominent Grevelingen

Prominent Grevelingen is the third jointly owned cultivation site. It is located in the beautiful and quiet Sirjansland, a tiny town on the island of Schouwen-Duiveland in the province of Zeeland. There are 12 permanent employees working on more than 11 hectares and up to 30 flex workers during peak season.

Prominent Groeneweg I & II

The Prominent growers also run two jointly owned tomato companies in 's-Gravenzande, in the province of South Holland, that are used as a Knowledge and Innovation Centre. This is where they keep a close eye on developments within tomato cultivation and test all new possibilities in the field of cultivation techniques, new varieties or substrate alternatives.

Prominent Hoogerbrugge

Since 1998, the two Hoogerbrugge brothers, now the third generation, have been growing tomatoes in Lepelstraat, in the western part of Brabant. As of 1 January 2022, Prominent has a stake in Tomatenkwekerij P.N. Hoogerbrugge. This allows the grower to continue to invest in the future and Prominent to remain assured of the supply of top-quality loose tomatoes during the season.

Greenvalley

GreenValley is the result of a collaboration between two tomato growers. In other words, collaboration is in the company's DNA. The entrepreneurs simply strive to deliver a good product and take great pleasure in doing so. They work from two cultivation locations in the Westland region, specifically on Kreekrug in De Lier.

R. Van Koppen

Robert van Koppen's family business started, grew and settled in Kwintsheul in the Westland region. On this small-scale nursery of 4.5 hectares, a group of four permanent employees works together with several flex workers and students every day with great pleasure and surrounded by the tastiest tomatoes.

Meer Camp

This family business is based in Made, in Brabant, and managed by the brothers Dirk Pieter and Rochus van der Meer. In an 8.2-hectare greenhouse, both medium-sized vine tomatoes and plum vine tomatoes are grown. The brothers also run an organic cultivation site together.

Lans, Gebr. A. & R. van der

Lans Tomaten is a vine tomato nursery owned by brothers René and Ariën. The company has been located on Groeneweg in's Gravenzande since it was founded by their father and uncle. In this nursery, they work day and night to produce excellent and tasty tomatoes.

Lema Tomaten

LEMA Tomaten is a true Westland company; versatile, experienced and based in Naaldwijk. The company was founded in 2006 as a joint venture between Rob van Marrewijk and Ruud Leerdam. This meticulously organised nursery grows tasty cocktail vine tomatoes on 5.5 hectares.

Marrewijk Tomaten

For several generations, this company has been owned by Jan van Marrewijk's family. It has grown into a sizable nursery with 19.4 hectares of greenhouse space. It is a real family business that specialises in tomato cultivation. The business is located at the Nieuw-Prinsenland agri-food cluster in Dinteloord.

Noordermeer B.V.

Kwekerij Noordermeer originally started out as a family business in Vierpolders, in the province of South Holland. In 2012, a second location was added in nearby Hellevoetsluis. Tasty cocktail tomatoes of the highest possible quality are now grown on a total of eight hectares.

Red Harvest

These entrepreneurs have had a taste for tomatoes for 30 years. Red Harvest is a production company that grows different types of tomatoes, with branches in De Lier (South Holland) and Middenmeer (North Holland). At Red Harvest, efficiency and quality go hand in hand.

Roots

This modern, 26-hectare tomato nursery was created following a merger of two family businesses. The Van der Knaap family from Honselersdijk and the Oussoren family from Zevenhuizen, both in the province of South Holland, have a history that dates back to the middle of the previous century. In other words, this horticultural company is genuinely built on family culture.

Schenkeveld

The family-owned business Schenkeveld is growing and currently has five sites in the Netherlands. New construction is underway in Rijsenhout and they already have cultivation sites in Westland and Midden-Delfland. For Schenkeveld, great performance and an eye for every detail are part of the process. They want to achieve the best results with as few raw materials as possible.

Solyco

This modern tomato nursery with branches in Bergschenhoek, Bleiswijk and Berkel en Rodenrijs covers 17 hectares of greenhouse space. Grower Gertjan van der Spek's mission is to cultivate tasty tomatoes for consumers all around Europe. Several tomato varieties are produced; in winter this is done with the help of grow lights.

T. Varekamp

Kwekerij T. Varekamp is a nursery that has enjoyed a reputation as a decisive and innovative company for many years now. It is a sizeable family business, where Teun and his son Mark are proud to grow vine tomatoes together with their team at the sites in De Lier and 's-Gravenzande.

Gebr. Vollebregt

The 5.3-hectare nursery of Sjoerd Vollebregt has been located in Poeldijk, in the heart of Dutch greenhouse horticulture, for more than ten years now. Five permanent and four seasonal workers have been working together for a long time in an informal atmosphere.

Van der Voort

The Van der Voort family has been growing tomatoes with love and passion for years. They also believe that the environment is the future and pay a lot of attention to this by contributing to sustainability projects. Van der Voort has two sites: one in 's-Gravenzande and one in Vierpolders.

G.J. van der Wel

For generations, the Van der Wel family has been growing fruit and vegetables on Maasdijk in 's-Gravenzande. After years of innovation, experiments and, above all, hard work, the company now has two sites that are run by GertJan van der Wel and his son Mario.

Van Wingerden

Van Wingerden Tomaten is an informal and down-to-earth company with 3.2-hectares of greenhouse space. Here, two foremen and ten flex workers work together with an average of eight students.

Zadelaers Boogaert en Van Niel

Ivan van Niel runs two cultivation sites with his brother Ruud and son Vincent: Zadelaers Boogaert Kwekerijen in Naaldwijk and Kwekerij van Niel in the neighbouring town Monster. For more than 100 years, supplying top-quality products has been their main priority.

Gebr. Zwinkels

Gebr. Zwinkels is a third-generation family business that has its origins in the Dutch town Honselersdijk. The management now consists of Robert, Ed and Vasco. All three are currently responsible for the two production sites in the province of South Holland: one in De Lier and the other in Zevenhuizen.