The Vine Tomato: A Star Player in Supermarket E-Commerce
The Nielsen Company states that next year, the Netherlands will take a giant leap forward when it comes to supermarket e-commerce. When analysing recent numbers of online bestsellers, vegetables are ranked first place, with vine tomatoes receiving an honourable mention. How can we maintain this top position in the future?
Current European Supermarket E-Commerce Could Do Better
Consumers might make more online purchases, but when it comes to supermarket products, e-commerce in the EU could use an extra boost. Numbers from 2017 show that the United Kingdom is taking the lead with a supermarket e-commerce share of 7.5%, followed by France with 5.6%, the Cech Republic with 3.2% and the Netherlands with 2.6%. Germany can be found in 8thplace with a 1.7% share.
The Netherlands Has the Potential to Take a Leap Forward
According to the Nielsen Company, the Netherlands has what it takes to take a giant leap forward in the next years. They predict that its supermarket e-commerce share in 2020 will have increased to 5%. As a densely populated country with an above average access to internet, the Netherlands has an advantage over other European countries. The fact that it has access to advanced, secure paying methods, provides extra opportunities. What is more, the Nielsen Company states that the Netherlands owns almost every factor that is directly linked to successful e-commerce.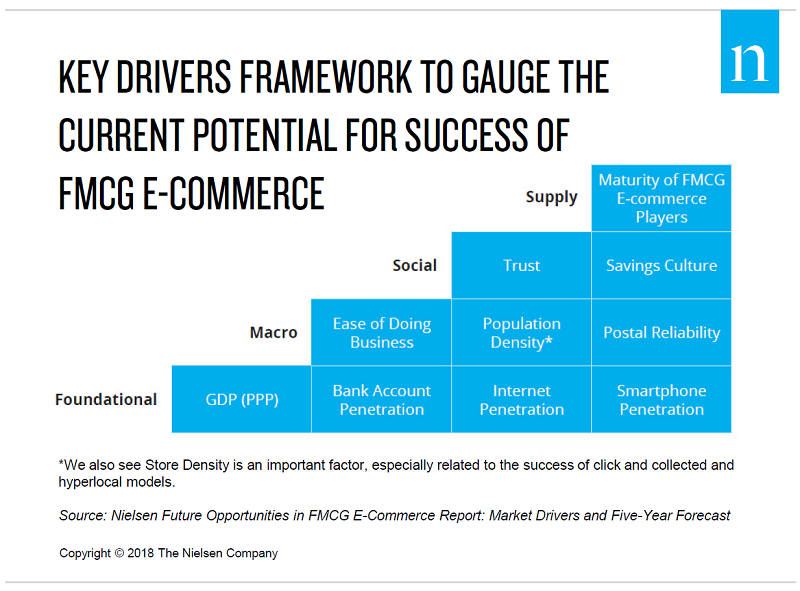 Newcomer Picnic Biggest Player in Supermarket E-Commerce
Innovation pays off. With its free delivery service, online supermarket Picnic proves to be an enormous catalyst in the Dutch supermarket e-commerce. As the start-up (2015) keeps expanding in both the Netherlands and Germany, its share is expected to have increased to 83% in 2020, next to 13% by Albert Heijn and 4% by Jumbo. Therefore, Picnic is an important player to keep an eye on!
Which Products Are Online Bestsellers?
Fruit and vegetables are flying off the online shelves. Recent numbers show that vegetables are topping the charts with a 6.7% share, in comparison to their 6.5% share in regular supermarkets. Fruit can be found in third place with a 6% share in online sales, against 5.8% offline. Combined, fruit and vegetables represent a share of 12.7% in the online product range.
More Sales Through Relevant Information and Optimal User Experience
The Nielsen Company also mentions that shoppers order products like apples, cucumbers and tomatoes online more often than they would offline. Therefore, it is even more important to be aware of the way our vine tomatoes are presented in an online environment.
Do the pictures reflect the original products? Is the added information complete? Will these two elements lead to online sales? Since shoppers do not have the chance to experience the fresh produce, providing the right information is crucial. Which characteristics does a certain vine tomato have, for example? And in which dish can it best be used?
We should also analyse the way in which products – like vine tomatoes – are ranked within a certain category – like fruit and vegetables. Optimal user experience ultimately leads to more sales. When we play it smart, our vine tomatoes are worth their weight in gold.
DOOR Partners / Prominent keeps inspiring retailers and shoppers. Curious to know how? We are keen to tell you more. Do not hesitate to get in touch with Wim van den Berg ofDOOR Partners / Prominent: w.vandenberg@doorpartners.nlor +31 (0)6 5756 4346.
The sales, marketing and quality control of Prominent tomatoes are handled by Door Partners B.V. This sales subsidiary forms part of the Grower Cooperative DOOR U.A.
Return to blogs