Studies Show: We Are Increasingly Eating Less Fruit and Vegetables
Various types of shoppers have specific daily routines, including their eating habits. What about Millenials for example, young families or baby boomers? Which products fill their shopping carts? Plenty of fresh fruit and vegetables? We are looking for answers with the help of a European study by GfK.
Daily Dose of Fresh Fruit and Vegetables?
The graph below indicates that we have been eating increasingly less fruit and vegetables since 2009. Even though the line is fluctuating, studies show that only 5% of the Dutch population follows the old advice of the World Health Organisation (WHO) to consume 200 grams of vegetables and two pieces of fruit per day. Bearing this in mind, the new WHO norm of consuming at least 400 grams of fruit and vegetables per day will never be met, which is why the Netherlands Nutrition Centre does not even communicate this recent advice.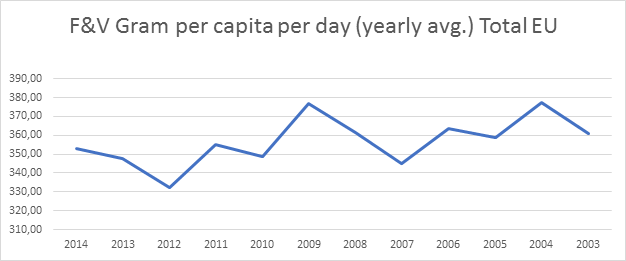 Every Target Group Has Its Own Budget and Shopping Preferences
How is it possible that our consumption of fresh fruit and veg decreases, while the study by GfK shows that our expenses on groceries keep increasing? Baby boomers and young families spend the most, whereas Millenials have a tighter budget. But if we keep eating less fruit and veg, what do we spend our money on? Every target group has its own shopping habits. Baby boomers choose specialist shops for example and Millenials prefer buying at organic stores.
Healthy Trends, Healthy Eating Pattern?
Healthy trends such as 'meatless Monday', a vegan lifestyle and eating less sugar, carbs, gluten and dairy should have a positive effect on a plant based diet. So, we are aware of the health benefits of fresh fruit and vegetables, but why does our daily intake decreases? Various media such as food blogs, magazines and television programmes provide the inspiration we need, to have a go at preparing healthy dishes. Even if this proves too much, we could choose from a growing number of cafés and restaurants which focus on fresh produce; think of salad bars, vegan cafés and health-conscious takeaways. Supermarkets too, expand their range with fresh salads and other healthy convenience products.
How can we inspire various types of shoppers to make fruit and vegetables part of their daily routine? We will discuss it in our next blog!
Are you inspired by our words and interested in reaching shoppers more effectively? Do not hesitate
to get in touch with Wim van den Berg: w.vandenberg@doorpartners.nl or +31 (0)6 5756 4346.

WHO recommendations
As part of a healthy diet low in fat, sugars and sodium, WHO suggests consuming more than 400 grams of fruits and vegetables per day to improve overall health and reduce the risk of certain NCDs.
The sales, marketing and quality control of Prominent tomatoes are handled by Door Partners B.V. This sales subsidiary forms part of the Grower Cooperative DOOR U.A.
Return to blogs