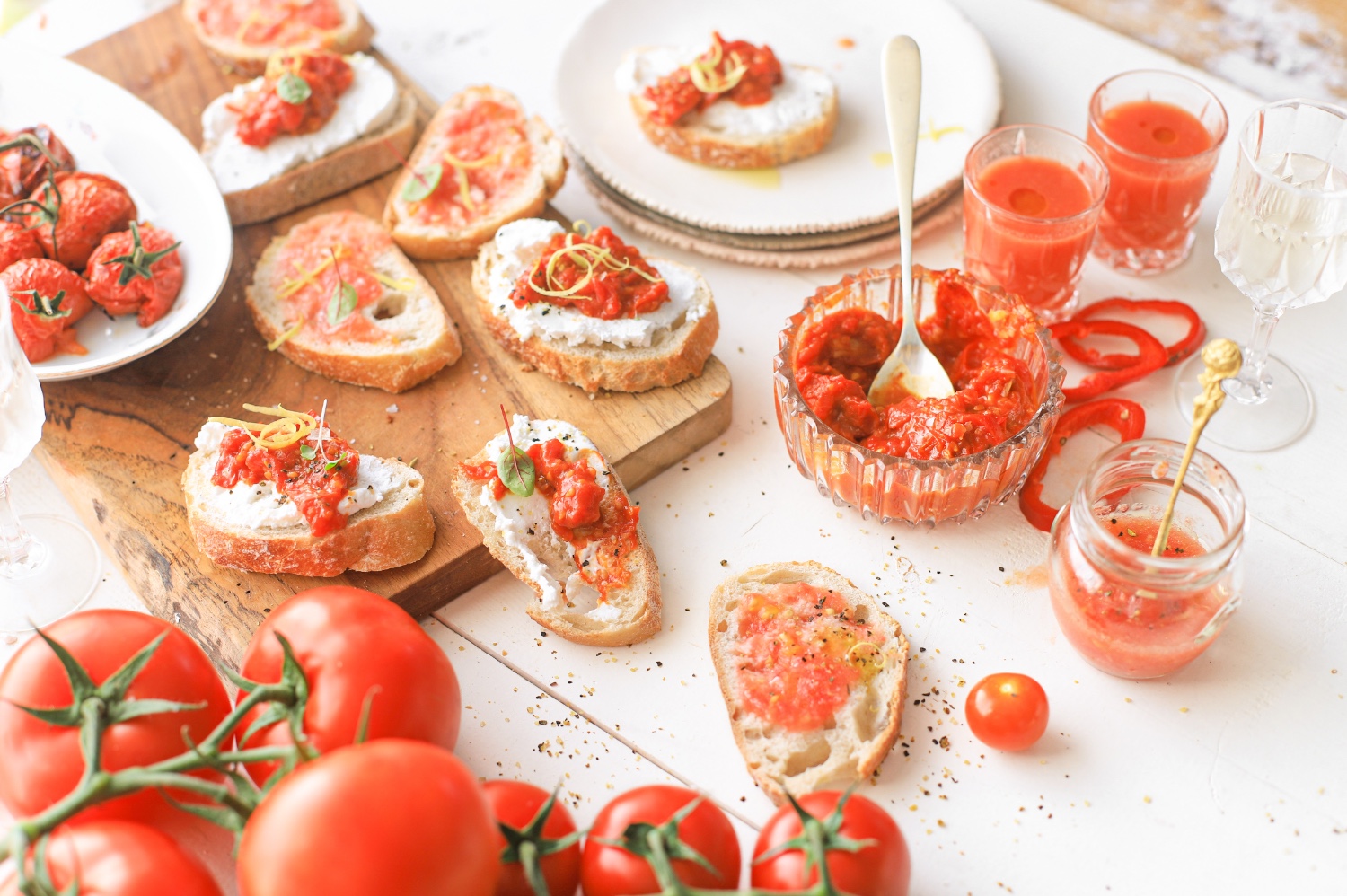 Preparation time:

50 minutes

TAPAS

, serves 4
These are the ingredients you need
15 mini cherry vine tomatoes - 4 tomatoes, medium size - 4 tbsp creamy soft goat's cheese - 4 tbsp extra virgin olive oil (organic) - 1 lemon (organic) - 1 ciabatta or sourdough baguette - pinch of salt flakes/Maldon sea salt - (extra) red bell pepper for snacking - 1 clove garlic (organic)
Preparation
Preheat the BBQ/Big Green Egg to 190-200°C. Place a griddle or cast-iron grill rack on the BBQ.

Crostini with goat's cheese & tomato jam Arrange 10-12 mini cherry tomatoes in a cast-iron tray, together with a halved lemon. Drizzle with a little olive oil and roast in the BBQ for around 15 minutes. Make sure you can close the BBQ to cook them nicely all over and make them nice and sweet. Once caramelised, remove from the tray and put them in the cast-iron pan with their juices, squeezing the grilled lemon into this as well. Blend into a jam with a handheld blender. Stir and return to the BBQ to thicken the jam. Keep an eye on the jam and remove it from the BBQ if it thickens too much. Allow to cool.
Grilled tomatoes Put the medium tomatoes on the griddle or rack. Roast for 10 minutes, until slightly scorched. You can also put them in a cast-iron pan/oven dish.
Pan con tomate Rinse the medium-sized tomatoes under running water and remove the crowns. Grate the tomatoes into a sieve and put a bowl underneath to catch the juice. Save the juice and set it aside. Mix the grated tomatoes with a pinch of salt, lemon zest and a tablespoon of extra virgin olive oil.
Cold tomato soup Season the leftover tomato juice with salt flakes, pepper and a few drops of olive oil. Because the tomatoes are of good quality, this simple 'gazpacho' soup makes a nice and refreshing addition. Serve in shot glasses. Cut the ciabatta or baguette into thin slices and brush half of the bread with olive oil. Cut the garlic clove in half lengthwise, rub the bread slices with it and grill the bread briefly on both sides on the BBQ. Once the bread slices are crispy, top half of them with the tomato sauce. Top the other half with goat's cheese and the tomato jam, and add the 'pan con tomate' & crostini to the snack board. Use a hand grater and/or zester to decorate the canapés with some lemon zest/curls. Serve in a bowl with the roasted/grilled tomatoes.
Recipe development: thelemonkitchen.nl