Prominent strengthens its position in the snack tomato segment with Moroccan partner QualiPrim
30 Sep 2020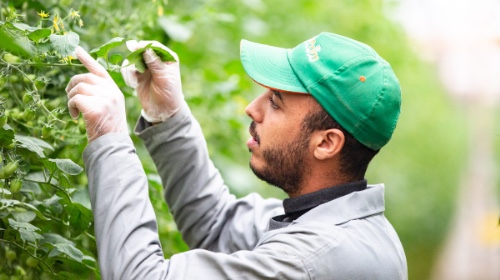 After a successful start last year, DOOR/Prominent has again been selling snack tomatoes from QualiPrim nursery, one of the best tomato growers in Morocco, since early September. 'We've had a very positive experience with the partnership and the quality of the product in the past year, as have our customers,' said Perry Dekkers, Marketing Manager. 'Due to the growth of the production area in both the Netherlands and Morocco, the Prominent brand is strengthening its position in the snack tomato segment.'
After a successful start last year, DOOR/Prominent has again been selling snack tomatoes from QualiPrim nursery, one of the best tomato growers in Morocco, since early September. 'We've had a very positive experience with the partnership and the quality of the product in the past year, as have our customers,' said Perry Dekkers, Commercial Director. 'Due to the growth of the production area in both the Netherlands and Morocco, the Prominent brand is strengthening its position in the snack tomato segment.'
In the Netherlands, the snack tomato season runs from March to November, while QualiPrim is in production from September to June. 'This way, we can offer our customers tasty snack tomatoes year-round, which in turn strengthens our position in this important tomato segment on the European market,' said Dekkers. 'We are building a long-term relationship and see sufficient sales opportunities with our regular customers. It gives us confidence that retailers will choose our snack tomatoes again this year.'
Short chain and happy customer
'The partnership with QualiPrim went well in the first season. Growers work together closely, and the staff at the Quality department and the inspection team also aim to deliver the highest quality snack tomatoes. In order to guarantee that quality and freshness, the tomatoes are shipped to the Netherlands as soon as possible after harvesting. In the meantime, the sellers at DOOR divide the volumes sold per customer, so that after arrival they can be processed immediately in the desired packaging.'
Quality first
QualiPrim has over 30 years of cultivation experience and has been supplying European retailers for years. The name and slogan "Quality first" say it all: QualiPrim's highest priority is product quality. The company also devotes a great deal of time to the processes in order to meet the quality standards of our customers -- an important reason for Prominent and QualiPrim to opt for this partnership.
Watch the video and get to know QualiPrim from Morocco
Activate the shopper to consume tomatoes at unexpected moments
With breakfast, for example. Curious about the positive effects?